Thomson Hayton Winkley Complete On New Website
Thomson Hayton Winkley have been looking after families and businesses for over 150 years. With specialists in all areas of law, they aim to provide clients with clear, jargon-free, friendly advice.
The firm have offices in Kendal, Windermere, Kirkby Lonsdale, and at The Rural Law Practice (J36 Rural Auction Centre). As such they are well placed to serve Cumbria, Lancashire, and North Yorkshire.
THW are proud of their local roots in the Northwest of England. In October 2021 they won Best Professional Services Business in the North at the Rural Business Awards 2021/22.
New brand, new website
We reached out to Director, John Cooke, with a view to offering our services. We pitched technical support, web hosting, and design changes for their website, which had been online for quite some time. THW had just completed a rebranding exercise with another agency and John was unconvinced the website reflected this. Their existing website—though responsive—was not fluid on all devices. It also displayed branding inconsistencies.
Additionally, the website CMS was inadequate. Staff tasked with updating the site found it difficult to use. This resulted in complicated workflows and unsatisfactory results.
We didn't want to spend precious client resources and hours unravelling and updating what was already there. Instead, we suggested mocking up new ideas for them. These would aim to improve brand visibility, increase UI options, and merge content into simpler categories.
THW wanted the new website to express the goodwill of the firm towards its clients. Furthermore, much like the clear and friendly tone of the firm, the website should similarly be approachable and easy to use.
Reflecting the brand and values of Thomson Hayton Winkley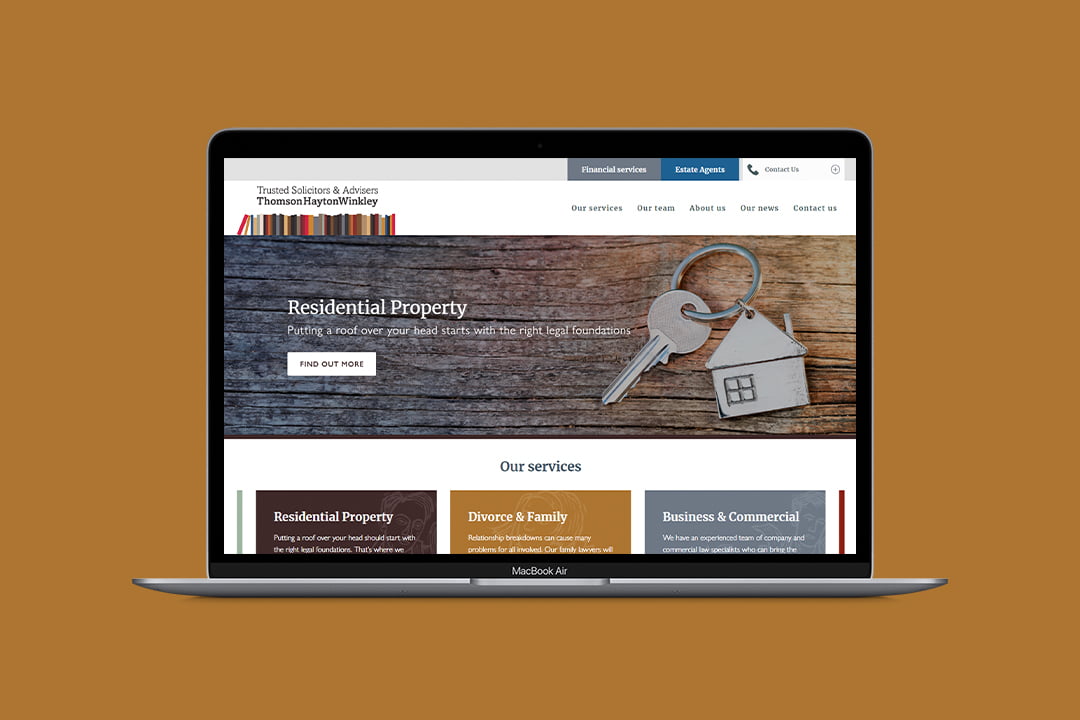 We developed a few iterations of design proofs and recommended that we build the website on WordPress. Doing so would help THW make use of a full suite of custom-developed UI components. John signed off the design and Marketing Manager, Suzie Fisher, took the reins as our point of contact.
Then… the COVID-19 pandemic happened, and all went quiet for a year or so until the world started waking up again. Once THW gradually opened their doors, development of the new website restarted. We were excited to launch the new THW Legal website in November 2021.
Following a successful launch, we are thrilled to continue our relationship with Thomson Hayton Winkley with a new THW Money website, which will follow a similar, seamless design scheme, and functionality.
Let's have a natter
Looking for help with branding? Need a bespoke website solution? Or do you want to improve your organic SEO strategy? Get in touch with BFI on [email protected] or call 015395 64580!