V12 Retail Finance
Need help setting up the V12 Finance Plugin?
It should only take you a few minutes to set-up on your site as follows:
Upload the plugin to your site (either via FTP or the WP Admin – whichever way you would normally handle this). Make sure you're using the latest version available – it should be able to update from the WP Admin Plugins screen.
Activate the plugin via the WP Admin.
Next enable the payment method, via (assuming you're on the newest version of WooCommerce):

WooCommerce > Settings
Payments Tab
Tick the Enabled Switch next to V12:
Now enter your V12 details:

From the screen above, click the Manage button next to V12.
This will display the V12 settings screen, you'll need to fill in the following boxes with the details that you've been given by V12 themselves (usually in a spreadsheet document):

Authentication Key
Retailer Guid
Retailer Id

Click Save at the bottom.
Now refresh the V12 products that are available on your account using the "Update Finance Products from V12." Link found under the heading V12 Available Finance Option:

Once done you should get a table of available Finance products.
Next will be choosing what finance products you wish to offer, for example: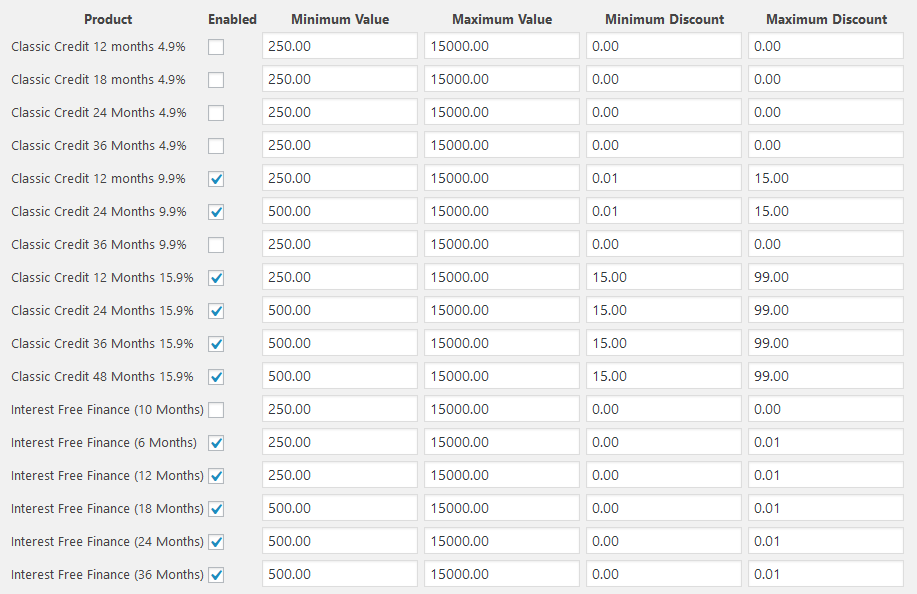 The ones that are ticked are available to the customer based on the min / max value of their order. We use the Min / Max Discount to set certain products against discounted items, ie: Interest Free is only on non-sale items, whereas 9.9% is offered against items with an up to 15% discount and the 15.9% on anything with a further discount to that.
Once you've ticked / tweaked the ones you want then click Save.

Your site should now display V12 as an option on the checkout.
There are other options but these should be enough to get you going, I hope that all makes sense but if you have further questions then please ask away.