Herdy Campervans Start Their New Adventure
Herdy Campervans is a collaboration between Sara and Martyn Merckel, a Cumbrian couple with a sense of adventure, and fun-loving Lake District brand Herdy. With a mission to share their passion for camping, Herdy Campervans aim to deliver miles of smiles to those seeking adventure on the open road! They came to BFI looking for a fun, fresh website which reflected their mission and the Herdy brand.
Herdy Branding
Uninspired by the world of 'beige' motorhomes, Sara contacted Spencer and Diane Hannah, founders of Herdy, and asked if this cute and lovable brand from the Lake District would like to go camping. And to her surprise the answer came back a resounding 'Yes'!  Six months later, three VW vans, branded and designed by Herdy and customised by specialist company Dirty Weekender, are now set to go.
Spencer Hannah, Co-Founder of Herdy told us "We were delighted to meet Sara and Martyn and hear their idea to customise the campervans – Herdy style. Herdy's all about spreading smiles and sharing happy moments so it seemed like the perfect fit. We've added our design touch to these campervans and they're really unique and special. We love the idea that people can have a Herdy Campervan adventure, exploring the Lakes and beyond. What's not to like!"
The project was developed in collaboration with the main Herdy brand. It was very important for the website to align with Herdy's aesthetic and design principles. We worked with Sara and Martyn, and the parent brand, to ensure the website looked and felt right. Parent brand The Herdy Company was born in 2007 in Kendal. It was created by designers, Spencer and Diane Hannah, to offer visitors to the Lake District and locals a choice of responsibly produced high quality giftware.
The Website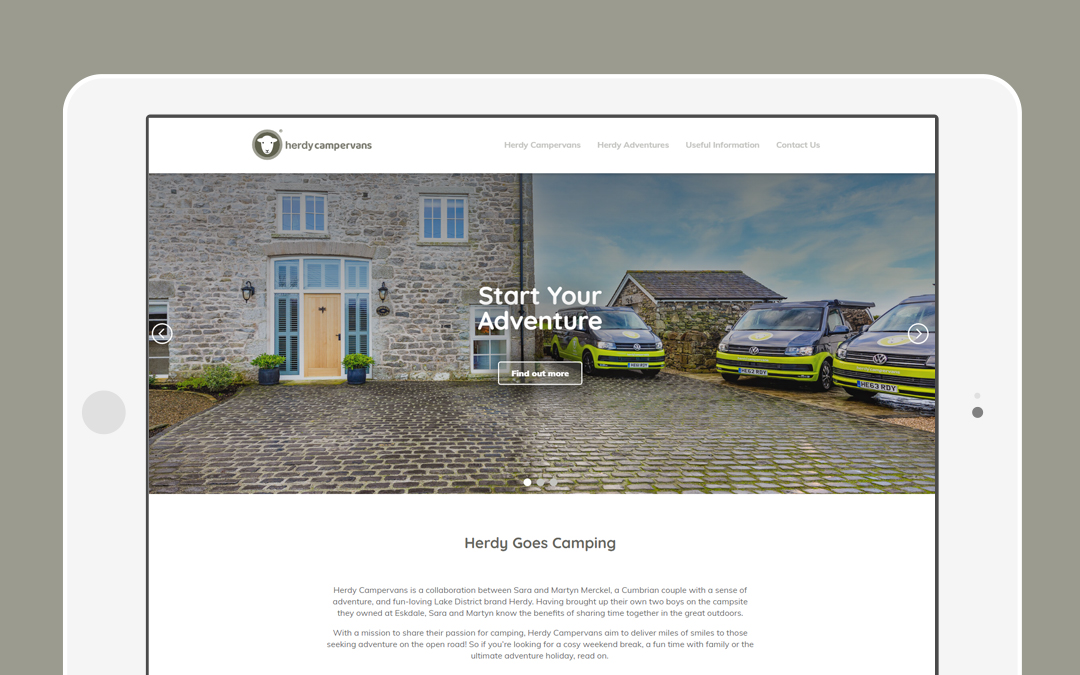 The Herdy Campervans website was designed so that users could see the features of the vans, and book their time online. Sara and Martyn wanted it to be as easy as possible for the user, with transparent pricing, full feature lists and useful information. We included a comprehensive FAQ page, pages explaining the van's amenities, and a section called Herdy Adventures, showcasing fun activities and campsites in the beautiful Lake District. It was built in WordPress, to make the website as easy as possible to manage. Our development team also created a simple page builder using "advanced custom fields", and included Mailchimp integration for promotional purposes.
Launch
Attend the launch of Herdy Campervans at 14th Feb 2020, at Booths Supermarket
Click To Tweet
Herdy Campervans is launching on 14th Feb 2020. The launch takes place 10am – 2pm at three Booths Supermarkets;
February 14th: Booths Ulverston
February 15th: Booths Windermere
February 16th: Booths Keswick
Ellie McGuirk from Booths said "We're laying on tea, coffee and biscuits at each of the stores to support the launch for everyone coming to see the campervans. We work closely with local suppliers from Cumbria and the Northern counties. So stocking up with great food and drink from Booths is guaranteed to get your Herdy Campervan adventure off to the best possible start!" 
How We Can Help You
Looking for help with branding, digital marketing or website design in Cumbria? Get in touch with BFI on [email protected] or 015395 64580!