UX/UI consultancy role for BFI
Our Daily Bread is a world-wide Christian publisher who came to us for some help in developing a clear UX/UI strategy. They produce hundreds of publications a year and they wanted to re-think the way their users could find them. We were engaged for user experience consultancy.
DISCOVERY
Working with ODB was never going to be difficult as we are immediate neighbours here at Sandside. We suggested that we hold an informal workshop to discover how we could implement useful changes. The client pointed us to a number of "influencers" and asked us to develop a scheme of work. We suggested that we should begin by wireframing a full user journey and use that to influence detailed proofs. These would define the UX/UI through a clearly defined, sign-posted structure.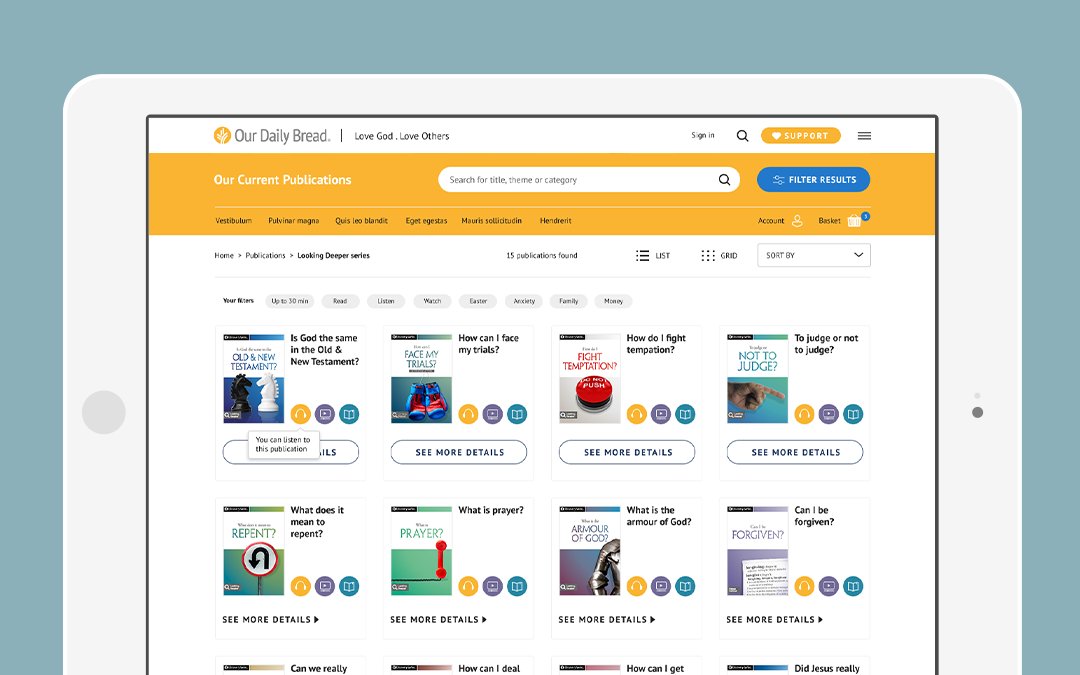 UX/UI & VISUAL DESIGN
The client sought to add new functionality to the site which lent itself to an ecommerce platform with the transactional element removed.  BFI were given a series of branding documents to follow and used these to guide the design. We had a great rapport with the client and were able to react quickly to changes throughout the project. This collaborative approach helped to create a simple, stylish layout with a clear visual language.
DEVELOPMENT
Once the visual designs were complete and signed off by the client, our technical team started the website development. We were tasked with developing working prototypes and once signed off ODB would develop it on their own system. This provided ODB with the opportunity to prepare more content, plan development time, create imagery and develop the content.
HOW WE CAN HELP YOU
As a full service web design agency in Cumbria, we work with leading brands across the North West. We spcialise in building connections with clients and listening to what their aims are. If you think BFI can help you with digital marketing, user experience auditing or web development, please call on 015395 64580 or get in touch by email.