New branding and website for local startup
Lucy Hunn, is a Nutritional Therapist and Community Pharmacist based in South Cumbria, close to the beautiful Lake District. Over the last 20 years or so, Lucy noted that often multiple medications actually make the chronic disease worse. So this year, she decided to follow her passion for nutrition and has now set up Food Pharmacist, a natural health website to support her new venture. Lucy asked us to create new branding guidelines and to create promotional material and a new website design.
DISCOVERY
As this small business was totally new, the client instructed us to develop a new brand from the ground up. It needed to reflect the health and fitness benefits of good nutrition, whilst being  visible across all media. We opted for an apple – the fruit of life – modelled on the hexagonal shape used in chemical symbols. Lucy really like this and asked us to develop the idea.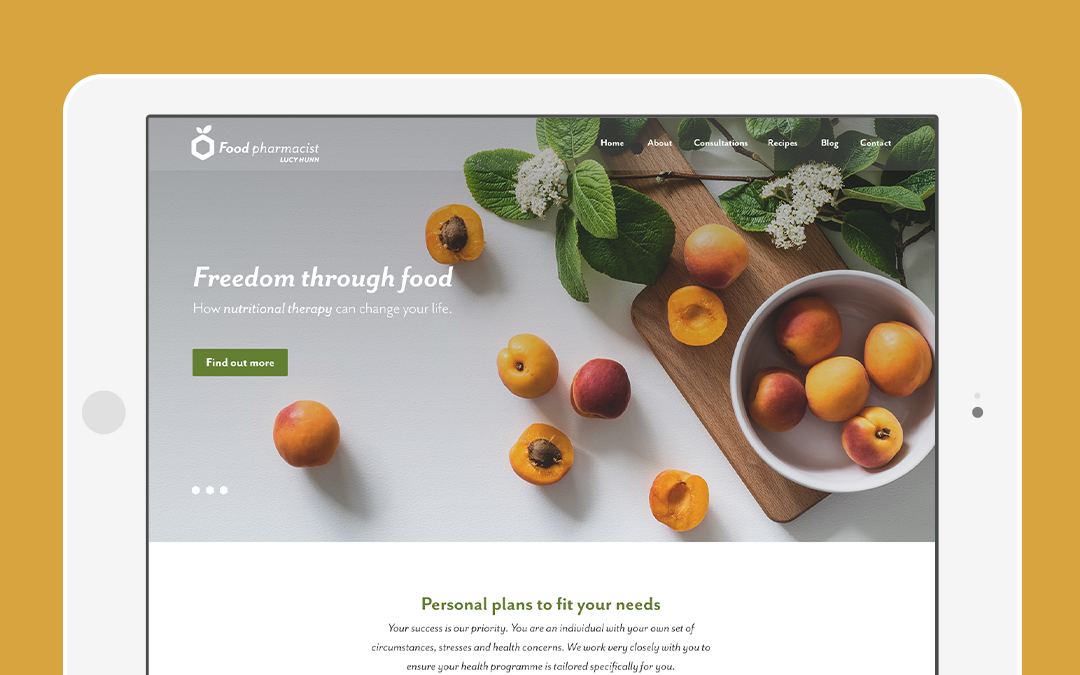 VISUAL DESIGN
We sourced images to create a mood board and colourway for the brand and worked from there. Lucy's aim was for the website to be a resource for people interested in wellness and good nutrition. She also wanted users to be led to contact her about body and mind health, and nutritional planning. It was important to have a clear and contemporary visual language, so we developed an icon set to support her main calls to action. Body and mind health, food for the heart, nutrition strategy and menu planning.
DEVELOPMENT
In the initial stages we created brand assets and worked up an A5 flyer and business cards. When these were ready to send to a client base we launched a holding page whilst Lucy wrote content and gathered firther assets. We created a simple WordPress CMS site for Lucy to self manage and happily launched it in March 2019.
HOW WE CAN HELP YOU
By building connections with clients and listening to what their aims are, BFI are able to use their combined skills to integrate with a broad range of clients. If you think BFI can help you with brand identity, web development or digital marketing please call on 015395 64580 or get in touch by email.